Considering the success of Ecommerce and consumer adoption, the physical stores have been long overdue for some breakthrough to divert traffic back. In the fiercely competitive world of retail, traditional brick-and-mortar businesses need to find ways of tempting online purchasers back. In this Ecommerce age, thanks to the rapid advancements in technologies like IoT, Artificial Intelligence, AR-VR, BLE/ iBeacon app development and more, retail stores are now transformed into digitized stores leveraging the concept of Smart Retailing.
Smart Retailing is all about enhancing the overall shopping experience of customer in and around the physical stores. Smart Mirror is a brilliant solution, comprised of multiple cutting edge technologies, to provide a unique and memorable experience for the retail stores' customers, using AI technology and IoT.
Bridging the Gap between Digital and Physical worlds using IoT
In this connected world ,one can transform businesses by turning data into actionable insights. Our Internet of Things (IoT) services with mobile app development are meant to transform enterprises with smart products and mobility solutions that will bridge the gap between the physical and digital worlds. We provide expert IoT services to empower closed-loop enterprise operations.
We leverage the IoT ecosystem and provide expert consulting to help businesses create a transformation roadmap and execute it with best-in-class, business-driven IoT mobile app development services. In today's Internet world, everything is connected .
Cosmetic
Jewellery
Salon Business
Clothing Mirror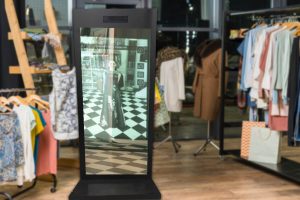 Facial Mirror